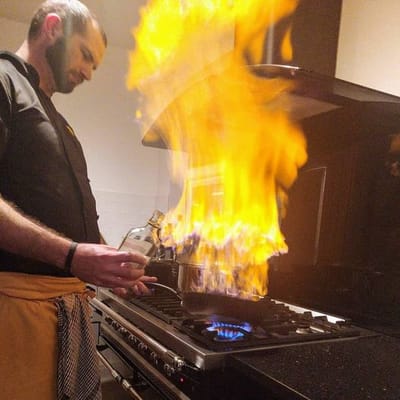 The Cornish Chef is the brain child of local St. Ives boy Daniel Rouncefield who was lucky enough to grow up in St. Ives. With a fisherman for a father most of his childhood was spent learning how to pick crab claws, and barbecuing fresh mackerel in the summer evenings, baking with his mum, and stirring the gravy for his grandmother.A chef from the early age of 14, Daniel worked his way up through the kitchens gaining knowledge from all the chefs he worked with until he was ready to go solo and started 'The Cornish Chef', a private hire catering service that brings the restaurant to you!'Most of my favourite memories involve me cooking with my family – excitedly tasting our creations as we went along, and experimenting with different flavours. I've always believed that since cooking is something we have to do anyway (because, we all need to eat, right?) – why not make it as enjoyable as possible?!
After completing my studies in catering in Camborne, and winning Student of the Year for 3 consecutive years, I trained at The Seafood Café in St. Ives, where I learnt most of my craft.
I pride myself on using the best that Cornwall has to offer, from the freshest fish from St. Ives bay to the best prime cuts of meat, cooking it in classic but simple ways to make the produce sing. I can't wait to meet you, and cook some good food!'

Daniel,The Cornish Chef.